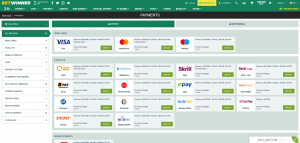 Deposit and withdrawal methods are a crucial topic for many players. How does BetWinner fare with regard to payment options?
BetWinner and various payment methods
The number of deposit and withdrawal methods is already one of the strengths of this new name on the betting market. There are currently more than 200 payments methods available in BetWinner, thus ranking this provider among the bookmakers with the highest number of available payment methods in the world.
However, players must be aware that not all of them may be available for their country at the given time. Although the payment method spectrum is limited geographically, there are still usually several dozen options to choose from in every region.
The choice of payment methods available in BetWinner is therefore sufficiently wide. For example, the portfolio includes prepaid cards, and the option of using cryptocurrencies. Specifically, players have more than 10 options, including the traditional Bitcoin, Ethereum etc. On the contrary, however, in terms of generally popular alternatives, we won't find the PayPal payment gateway or the Swedish Trustly system in BetWinner.
In terms of commonly used payment methods, you can use classic options available practically everywhere, such as payment by card or bank transfer. There's also an entire range of local systems available, such as Yandex, Webmoney and Nordea.
From a security perspective, every player can be completely worry-free. Whichever method they choose, it's completely secure thanks to encryption. Therefore, the risk of the misuse of sensitive data from your payment card is minimised by the provider.
Withdrawal methods
The minimum withdrawal is €/$1.50, or a similar amount in another currency of your choice. There is no maximum withdrawal limit. Withdrawing money is free of charge. Depending on the method you choose, the withdrawal can take a few minutes or a few days. The average request processing time is 15 minutes, while for example withdrawal of money by payment card takes longer – up to 7 days. There are no fees for withdrawing your funds. To withdraw funds, the player is required to have their account verified.
Deposit methods
The minimum deposit is €/$1, or the equivalent in the relevant currency. There is no maximum deposit amount. Deposits are free of charge. Processing is instant for all methods.
Which payment method to choose
Given the fact that you don't have to worry about fees, you should use the option which ensures the fastest processing, i.e. for example digital wallets (Skrill and others). They're popular not only due to their speed, but also because of privacy protection; you load your money into a virtual account. Withdrawal by card and bank transfer are also popular methods among players.
You should also note that, in most cases, only a method by which you made at least one deposit can be used to make a withdrawal.
Given the fact that all deposit methods are processed instantly, your choice here is somewhat wider.
For example, many players thus opt for classic deposit by card, mainly because the transfer of money is extremely comfortable, and no registration is required. Embossed Visa cards are usually accepted; in the case of Mastercard, it's best to find out the conditions of use first.
Although transfers by payment card can be considered secure, if you nevertheless have some concerns, then we recommend you use a classic bank transfer instead. However, a disadvantage is that the bookmaker must support instant bank transfers for your bank, otherwise the whole process can take several days. The instant realisation of a payment does not usually incur any other fees. However, deposits by bank transfer are somewhat more complicated; you must enter extensive information regarding the company to which you wish to send the money.
On the contrary, using digital wallets is very simple; every bookmaker offers several options. For example, popular services include the Skrill digital wallet.