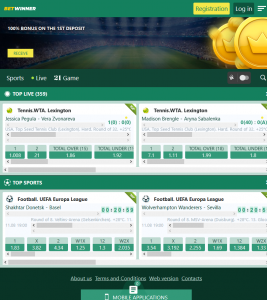 Gambling games are increasingly moving from classic computer screens to mobile devices. What options does BetWinner offer players, and what are the advantages of playing on your mobile?
What you can play on your mobile
You can play the complete menu offered by BetWinner on your mobile. That means the games from the online casino (slots, live games); it's also possible to bet on all types of sports, and watch live coverage, on your mobile.
What you need to play on your mobile
You need to have a mobile with an internet connection, and a special application. The application must comply with the hardware requirements, meaning at least version 4.1 of the Android system, and optimally the new version of the iOS system.
Advantages of the mobile application
Using the application is always better than accessing the mobile version of the website directly. This is mainly due to the fact that playing is more comfortable. Logging in to the application can be simplified so that the user is identified only by their fingerprint. It also allows you to bypass blocking in various regions if necessary.
The application is simultaneously clear and intuitive. The user environment was designed to be easily operable and accessible, even for new players. On the contrary, if you're already an experienced bettor, you'll be glad to hear that the environment is not significantly different from the web version. Therefore, you shouldn't have a problem finding any of the available functions.
Mobile version of the BetWinner website
If, however, the application doesn't work for you, for example due to the fact that you own an older device which is no longer supported, then the mobile version of the website may be a suitable solution for you. You should be redirected to it automatically, as soon as you open the official BetWinner website in your internet browser. If this doesn't happen, enter the address https://m.betwinner.com.
The mobile version is fully functional and optimised. It supports all deposit and withdrawal methods, markets and bet types. It also offers access to promotional events and customer support.
Advantages of playing on your mobile
Your mobile phone will literally turn into a bookmaker in your pocket. You'll be able to play regardless of where you are, for example on the road. What's more, your mobile will save you a significant amount of time. Placing a bet is a question of just a few seconds, and you'll have continuous access to betting.
Mobile applications have therefore undoubtedly changed the world of betting. And that applies even more for the world of live betting which, for example, has clearly dominated the world of football in recent years. After all, there is indisputably more allure in the option of betting while you're watching a match with your friends in your favourite restaurant than in the times when the sports fan simply had to sit at home in front of the computer.
The payout of money is also very easy. You no longer have to switch on your computer, or log in to online banking. You just send a request, and everything is resolved.
Comfort is not the only benefit of betting on smartphones. The mobile phone is a priceless source of information for modern people. And for bettors, this is doubly true. In this way, you have the option of monitoring the match status and score in real time, or to ask more experienced players for advice.
Given the existing level of security, there's no need to be concerned about using the application. You can use the application to completely securely deposit funds, or withdraw them from your account.
Does mobile betting have any disadvantages?
One of the possible disadvantages stems from the very essence of a mobile device: it's too small, and the touch screen can be uncomfortable and unergonomic for some users. Depending on which device you own, playing can also be less comfortable for you, in part due to older devices' poorer screen resolution.
The considerable comfort and simplicity is also something which can turn into a disadvantage of mobile betting. Thanks to the fact that betting is available instantly, in all circumstances, it can be very hard for some users to estimate an acceptable degree to which it is still OK to spend time betting.