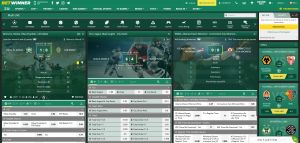 The word "live" has the right effect on visitors to bookmakers. It gives them the opportunity to enjoy the atmosphere of games and bets to the full. What does BetWinner Live offer?
Live casino
Live casino must be a part of every modern bookmaker. With it, BetWinner also acquires the reputation of a go-getting newcomer with something to offer players.
Apart from classic casino games, it also offers play in so-called live mode. Its purpose is to absolutely faithfully imitate the environment of a real casino, including live croupiers. The player therefore gets a perfectly mediated experience without having to leave the comfort of their home.
BetWinner collaborates with a number of leading software developers. Specifically, the software for live casino is supplied by Evolution Gaming, Vivo Gaming, Super Spade, Portomaso Gaming and many others. Around 20 partners in total contributed to this part of the casino.
Usoft Gaming is a supplier of erotically-themed games, with beautiful croupiers dressed in attractive costumers. However, tables are available for a limited period – exclusively at night-time, between 12:00 and 4:00 UTC.
The vast majority of live games use an English-speaking croupier, so you must have a knowledge of this language to enjoy the game. A limited menu of live roulette in so-called native form makes the live casino available in other languages to those with a limited knowledge of English.
The most popular games waiting for you here include:
several versions of roulette, including American, European and Auto Roulette Speed
more than 20 different blackjack tables
Dream Catcher
Deal or No Deal
baccarat, including pretty croupiers
poker from around the world, including Caribbean and Texas Hold'em
777 Jackpot
an entire range of amazing card games, such as for example Lucky Streak
Live betting – what is it, and what are its advantages?
So-called live betting allows you to bet on an event which is currently taking place. In this case, odds change dynamically in comparison with regular fixed odds. That's why this branch is an increasingly popular type of betting.
Players are therefore also offered the option of speculating with odds differences. According to the development of the match, it is often even possible for the player to make a so-called sure bet. And, in practice, these cases do actually occur relatively frequently.
The second reason why these bets are very popular is the option of placing a bet at the end of the match, if it ends in a draw or a defeat for the favourite. For example, you can bet on the favourite, or on whether another goal may still be scored.
In pre-match bets, chance also plays a more significant role. If the player has sufficient experience, then they can therefore effectively minimise the risk of losses in live betting. However, this does not mean that pre-match bets are intended exclusively for beginners. On the contrary, you'll have the best betting experience if you combine both branches.
Live bets on BetWinner
Not every bookmaker offers this option, so for fans it's still a unique experience of its kind, which significantly enhances the enjoyment of playing.
BetWinner offers live coverage of various sports events, and at the same time many betting options. In live betting mode, BetWinner offers odds of up to 97%. According to some sources, these are even some of the best odds for these types of bets. Almost all sports from ang leagues ( Premier League, Serie A, Ligue 1, Campeonato Brasileiro Série A, Bundesliga ) the standard menu are included in the betting options.
BetWinner also offers the streaming of most games in the eSports category. Thus, you can also bet on this category in live betting mode.
A significant advantage of live betting on BetWinner is also the fully-fledged access from your mobile device. Thanks to the application, you also have all of the functions necessary for smooth-running betting and maximum fun saved in live betting.
Multi-live
Multi-live is one of the functions which is specific for BetWinner. It allows for the easy combining of all live events into one bet, and betting on them at the same time. This makes betting noticeably easier and more comfortable.