Online Bookmakers
About BetWinner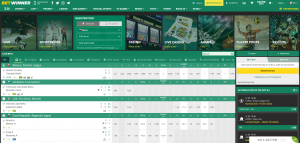 The bookmaker is is new on the market. The website www.betwinner.com was only founded in the year 2018. The website is now operated by Exinvest Limited.
Although we can find this new bookmaker's origin in Eastern Europe, its current headquarters are in Cyprus. The bookmaker was built on the original technology of the Russian bookmaker 1xBet. They both use the BetB2B platform, which is also the reason why they're similar at first glance.
Today, this bookmaker already has approximately 400,000 active players, and thereby belongs among the fastest expanding newcomers. It's still most popular in its domestic Eastern Europe, but it's also gaining ground in Germany and Portugal. In the future, this new player's expansion in the betting market should focus mainly on African countries.

Welcome bonus:
100 EUR/USD
Licences and security
As a newcomer, the bookmaker can rely on highly stable facilities, including from a financial perspective. The absolute respectability of this bookmaker is guaranteed by the gambling licence issued by the state of Curaçao.
Emphasis was also placed on a high level of security. Therefore, players do not have to be concerned about their personal data. The transmission of all sensitive information is encrypted using HTTPS, which minimises the risk of misuse. Data entered in the database is protected using 128-bit Secure Sockets Layer encryption, or SSL.
Restricted countries
A disadvantage of this bookmaker may be considered the fact that players from many regions do not have the opportunity to play, because access from their country is blocked. This is because BetWinner does not have a valid gambling licence in these regions.
The restricted countries currently include:
Australia, Austria, Belgium, Cyprus, Czech Republic, Slovakia, Denmark, France, Israel, Italy, the Netherlands, Poland, Portugal, Spain, Sweden, United Kingdom, USA.
How to register
Every player can have only one account. Registration is possible in four simple ways. Therefore, it shouldn't take you more than a few minutes to set up your own account.
The first method is so-called one-click registration. You can also opt for registration by e-mail or telephone. The last method is using social networks. The fastest way is one-click registration, which only requires you to enter a country, a currency, and a unique code if you have one.
Opening an account in other ways requires the submission of additional details. You should enter accurate and truthful information. That means your name, surname, telephone number and e-mail address. Remember your login password carefully; you will need it later to access your user account. However, if you forget your password, you can reset it later using the relevant link.
In this phase, you can also avail of the option of entering a promotional code, if you have one. If you don't want an entry bonus, then you must also cancel it in this initial step.
In order to start betting, you must first verify your account. This is done via an SMS with a verification code, or an e-mail which contains a verification link you must click on.
Account verification
The account verification is not absolutely necessary for playing. However, it becomes important when you want to withdraw the money you've won. This is not an exceptional complication; BetWinner – like Sportingbet – makes the payout of funds contingent on this process exactly like other bookmakers.
The entire process involves just a few steps. In your account settings, you should verify that you've filled in all the required information. Next, upload the required document scans. This should be proof of identify, i.e. an ID card, driving licence etc. Then attach a scan of your card, and a document which verifies your address. For example, this can be a bank statement.
You save these documents in the system. During the following 24 hours, the bookmaker's representatives will process your information and verify the account. You will be notified of the successful verification via a confirmation message. If your account could not be verified, you'll receive a notification from the operator containing instructions on how to proceed further.
Account deletion
You cannot delete your account by yourself. If you wish to remove your account, contact Technical Support with your query.
Web interface
The web interface design cannot be regarded as very intuitive, as many reviews mention. The homepage, in particular, seems considerably overloaded. Nevertheless, it has a number of functions which can be considered useful.
You'll find a complete overview of individual sports and markets in the top part of the screen. The match results section enables you to easily display thousands of past match results. All you have to do is select a sport, league or competition, and request that the details be displayed. The button used to log in to the account is located above the main menu.
Orientation within the website is also made easier by the option of switching to your mother tongue. BetWinner currently offers approximately 50 different language versions. You'll also find the button used to change the language in the top part of the screen.
Sports betting
Sports betting is this bookmaker's key focus. The bookmaker offers a menu of various betting markets. Moreover, new ones are regularly being added. In total, over 1,000 events from more than 55 different sports per day are on offer here. That's 30,000 events per month before the match.
Given football's considerable popularity, it's probably no surprise that football bets are represented here in large numbers, including prestigious competitions such as La Liga. You can choose various forms of betting, such as Asian handicap and double chance; there's also the option of betting on the match result.
BetWinner offers single, accumulator, system and chain bets. Every day, there's the option of betting on the match of the day, which includes the day's best offers. Improved odds and increased betting limits are provided for all these matches.
The bookmaker also offers various odds formats, being American, British, decimal, Indonesian, Malaysian and Hong Kong. The odds for the best leagues fluctuate to as much as 97%. However, if you bet using Asian handicap or on the match winner, the value can increase to as much as 98%. Secondary bets, such as for example on the overall score, have odds in a range of 94 to 95%. In most markets, the odds do not fall below 90%.
It's also possible to bet on a number of other popular and less common sports, such as martial arts, Formula 1 races and even golf. The menu of basketball and horse racing bets is also quite extensive. Tennis and cricket also appear among betting opportunities. In addition to sports betting, it's also possible to bet on other events, including politics, television programmes and even the weather.
The special functions which this bookmaker offers are Betconstructor, Bet Slip Sale and Betting Exchange.
eSports
The growing popularity of virtual sports is the reason why we can also find an eSports section in this bookmaker. BetWinner offers a completely unique sports menu, including for example the first virtual cockfights.
Leading global developer names such as Global Bet, Leap Gaming, Golden Race and Edge Gaming have participated in the development of this section. Fans therefore also have the opportunity to try out sports and leagues which don't exist in real life, or have fun in breaks between individual leagues.
Games section
Win Games, Bingo and TV games are available in the Games section. TV games are conceived as live games which you can play with a moderator on TV. Specifically, the menu includes TVbet , Lotto Instant Win and Live Keno. The bingo games section is also very diverse. This section consists of a total of 6 bingo categories, namely FLG Web, Bingo Boom, Tombala, LottoRace, MGA and Patagonia.